AUTO TINT CITY OFFERS SIDE STEP PRODUCTS
Auto City Outfitters carries and professionally installs Side Steps / Side Bars for domestic & foreign trucks.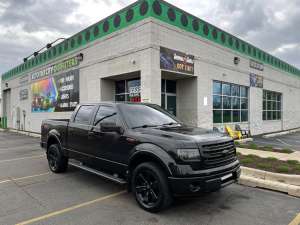 Side Steps, also known by other names such as Side Bars, Nerf Bars and Step Bars, generally differ from Running Board in these ways:
Mounting – typically, Side Steps are designed to mount with a certain measure of space between the step and the body of the truck.
Ground Clearance – typically, Side Steps are mounted lower on the vehicle, which provides less ground clearance but a more conveniently located step, especially for shorter passengers.
Steps Pads – Side Steps typically have individual step pads that are found at each door to the truck
Auto City Outfitter's Side Steps / Side Bars
Beyond the obvious function of a Side Step / Side Bar for your truck, they also enhance the overall visual appearance of your vehicle
Most Side Steps come with a variety of features – including different sizes/diameters, end options and finishes – so choosing the best one for your needs and your vehicle may is not always an easy choice
This is where we can help: our Truck Accessory experts can help you through the decision making process to come up with the best choice for you.
Auto City Outfitters installs top-of-the-line Side Steps to most domestic & foreign-made trucks
Need a recommendation about the best Side Step/Side Bar for your truck? Just ask!
With all the Truck Accessory options – including Bedliners, Tonneau Covers, Side Steps / Side Bars, Light Bars, Grilles and Chrome – picking the best option for your needs and your vehicle can be difficult. We can help! Call us today at 313-274-2300 to discuss what you want to do with your Truck.
Looking for Any of These Additional Products or Services offered by Auto City Outfitters?