AUTO TINT CITY OFFERS LIGHT BAR PRODUCTS
Auto City Outfitters carries and professionally installs Light Bars for domestic & foreign vehicles.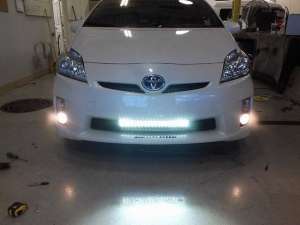 Auto City Outfitter's Light Bars
Light Bars can light up the entire forward view, can be used in and underwater, and are made of shatterproof lenses.
While their placement is most commonly limited by their size, Light Bars can be mounted at many places on your truck, such as:

Front Spotlights – for driving and working in bad weather conditions, these lights offer a long range of illumination and provide an area of strong visibility
Rear Bumper – to provide greater visibility when hitching, backing up, and driving
Tailgate – used for giving other drivers better visibility of your truck; they typically are synched with your brake lights or used as running lights
Hood, Cab & Grille – typically one of the most common places to place light bars, these locations are selected for their forward-light potential as well as being an aesthetic choice by many vehicle owners.
Not sure which Light Bar or Light Bar combination is best for your vehicle and for your specific needs? Just ask! Our Lighting experts & technicians will answer all your questions and will help you select the best Light Bar package for you.
With all the Truck Accessory options – including Bedliners, Tonneau Covers, Side Steps / Side Bars, Light Bars, Grilles and Chrome – picking the best option for your needs and your vehicle can be difficult. We can help! Call us today at 313-274-2300 to discuss what you want to do with your Truck.
Looking for Any of These Additional Products or Services offered by Auto City Outfitters?