Auto Tint City's
Professional Accent Lighting
Which is best for your vehicle? LED or HID Lighting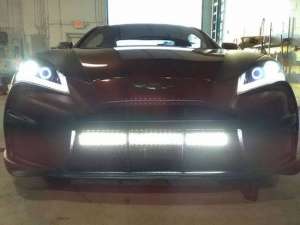 Often, our customers who are interested in a lighting upgrade for their vehicle ask: which lighting system is best for my vehicle: LED or HID Lighting?
LED (Light Emitting Diode) Lighting
LED Lights are compact, energy efficient lights capable of producing very bright light, with noticeably less glare than HID Lights.
Unlike HID Lights, LED Lights provide instant light when turned on.
LED Lights do not get hot, although they do cause heat in the surrounding assemblies and wiring harnesses.
LED Lights, like HID Lights, are often mistaken as high beams.
HID (High Intensity Discharge) Lighting
HID Lights last longer, burn brighter and use less power than a vehicle's halogen lights.
HID Lights function like Neon lights, except that they use Xenon instead of Neon gas.
HID Headlights give off a very bright, very whitish-bluish appearance, which illuminates the darkness far better than conventional lights.
They last longer than most lights, often exceeding 2,000 hours or even higher.
One drawback of HID Lights is that they do not create immediate light after turning on, as the LED Lights do, which could be an issue during an emergency.
So Which Lighting System is Best for You?
Both lighting solutions offer great solutions for nighttime drivers while enhancing the overall appearance of your vehicle.
The Lighting Professionals at Auto City Outfitters can help you determine which lighting system is best for you.
Have questions about our Accent Lighting options?
Call us today at 313-274-2300 and ask to talk to one of our Lighting Professionals.
Looking for These Specific Wrap Services?