What Can Interior Ambient Lighting do for Your Vehicle?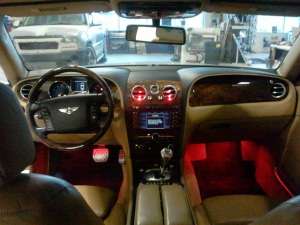 √ Improves the overall appearance of the vehicle while significantly increasing its value & owner appreciation
√ Enhances the perception of spaciousness and quality of materials in a vehicle
√ Enhances night-driving safety by fostering a greater level of alertness
√ Gives your car or truck that one-of-a-kind look.
Why have Auto City Outfitters add Ambient LED Lights to your vehicle's interior:
Superior Energy Efficiency – LED Lights use up to 80% less energy than conventional lighting
Longer Life – Ambient LED Lights last far longer than conventional lights
Great Versatility – custom LED strips and other lighting features can be combined in endless ways to create the look you want
Diverse Colors – replace your boring-white conventional lighting with multi-colored options
Where can Interior Ambient Lighting be Installed?
Auto City Outfitter can install Ambient LED Lights anywhere a traditional bulb is found
Dome lights
Door lights
Map lights
Trunk lights
Glove box lights
Cargo area lights
We can also install custom LED light strips anywhere in the vehicle.
Have questions about our Interior Ambient Lighting options & services?
Call us today at 313-274-2300 and ask to talk to one of our Lighting Professionals.
Looking for These Specific Wrap Services?