AUTO TINT CITY OFFERS GRILLE PRODUCTS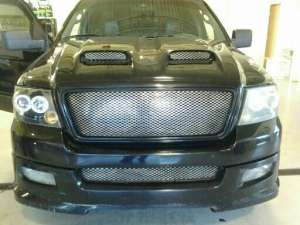 Auto City Outfitters carries and professionally installs Grills for domestic & foreign vehicles.
Grilles / Billet Grilles / Grille Guards
A truck grille, also known as a billet grille or grille guard, protects your truck and the occupants inside from harm and damage due to weather, animals, or objects in the road that normally would cause a significant liability.
Most grille guards are made of steel, with different gauges of steel offered based on the primary function of the truck grille
Thicker gauge steel offers more protection but is heavier, and is generally recommended for off-roading or for vehicles that will need that extra protection.
Lighter gauge steel is less strong, but is more agile and better for improved fuel efficiency.
Truck grilles are also a great location for Light Bars [link to Light Bar page] to be attached.
Not sure which Grille / Billet Grille / Grill Guard is best for your vehicle and for your specific needs? Just ask! We will answer all your questions and will help you select the best Grille for you.
With all the Truck Accessory options – including Bedliners, Tonneau Covers, Side Steps / Side Bars, Light Bars, Grilles and Chrome – picking the best option for your needs and your vehicle can be difficult. We can help! Call us today at 313-274-2300 to discuss what you want to do with your Truck.
Looking for Any of These Additional Products or Services offered by Auto City Outfitters?