AUTO TINT CITY'S PROFESSIONAL
DEBADGING & DECHROMING SERVICES
Conveniently located on Telegraph Road in Dearborn, Auto Tint City's Custom & Commercial Wrap Professionals are ready to Serve You!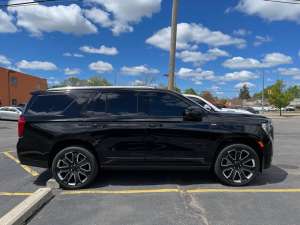 Debadging Services
Vehicle Debadging is the process of removing the emblems from your vehicle that were installed at the factory.
Removing these badges can create a more clean look for your car or truck.
While removing a vehicle badge may appear to be straightforward or even a simple task, DIY'ers often find that they end up scratching and/or damaging the exterior of their vehicle.
Auto Tint City's professionals will remove the emblems, including all tape, glue, and glue residue, then polish the paint behind the emblem and seal it after the emblem is completely removed.
The result is a clean, flawless, seamless look.
Dechroming Services
Dechroming involves safely removing chrome from your vehicle.
In removing the chrome, we utilize the same process that was used to apply it – but in reverse.
This process allows us to remove the chrome on your vehicle without damaging any area.
The new area will be prepped and ready for any post- chrome modifications.
As with debadging, dechroming is best when handled by the professionals at Auto Tint City.
Looking for These Specific Wrap Services?