Remote Starters & Vehicle Alarms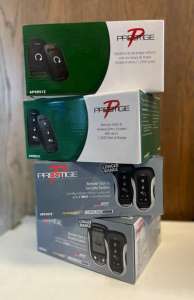 The Auto City Outfitters team of professionals will help you select the best Remote Starter and/or Alarm Package for your needs and your vehicle.
Our Remote Starter Packages include some or all of these features:
Glass-Mounted Antennas with Built-In LED Light and Valet Switch
Unlock Output capabilities
RPS (Real Panic Sound) Horn Honk
1-Button, 1-Way Transmitters/li>
Progressive Car Find
125dB Weatherproof Siren
Hijack Mode & Silent Choice options
In addition to some of the features listed above, our Vehicle Alarms Systems include some or all of these features:
Web-based System Programming
Dual-Stage Shock Sensor (Lite-Touch-Full-Trigger)
Turbo Timer
Manual Transmission Mode
All of our Remote Starters & Alarms come with a comprehensive, Limited Lifetime warranty.
Not sure which Remote Starter and/or Alarm package is best for you?
Call us today at 313-274-2300 and ask one of our Accessories professionals. We will review options, pricing and will answer any questions you may have.
Looking for Any of These Additional Products or Services offered by Auto City Outfitters?