AUTO TINT CITY'S PROFESSIONAL
RACING STRIPES & ACCENTS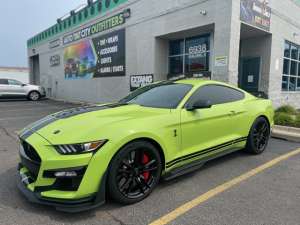 √ Auto Tint City provides a plethora of racing stripes and accent options for your car or truck
√ Custom designs with subtle & non-subtle custom look available
√ Professionally installed
√ 100% Removable
Conveniently located on Telegraph Road in Dearborn, Auto Tint City's Custom & Commercial Wrap Professionals are ready to Serve You!
Racing Stripes
Racing stripes gives your vehicle that one-of-a-kind look, making your car or truck stand out from the rest.
Multiple styles and colors of stripes are available.
With so many choices and options to choose from, our team of Striping and Accent Professionals can help you pick the best stripes and look for your vehicle.
Accents
Personalizing your car or truck with Color Accents is a great way to give your vehicle that memorable, one-of-a-kind look.
Multiple combinations of accents exist.
If you're not sure what you want, or if you have questions about which Accent look would be best for your vehicle, our staff will review all accent options with you and will make recommendations based on our years of experience.
Looking for These Specific Wrap Services?